A dogged, Pulitzer Prize winning reporter, a literary genius, one of the sexiest women in comics and, of course, Superman's girlfriend—ah, Lois Lane.
We've covered portrayals of Lois Lane in cinema—but the character of Lois has also changed substantially in the history of Superman comics.
Lois Lane became one of my role models at a young age. Thanks to my dad and a superhero-obsessed younger brother, I was indoctrinated into the DC Comics fandom early. I still fondly remember one of my favorite Lois moments from 1997 in The Batman Superman Movie: World's Finest. Lois is riding on Air Force One with a team of reporters when the plane is hijacked by some quintessential animated bad guys. She tries to reach the emergency phone to dial for help, but is caught, pushed into an empty seat and buckled in. Naturally, Superman arrives to sort out the situation and he flips the plane causing the bad guys to go flying while Lois, securely buckled into her seat with her dark hair flying in a perfect curtain, quips, "Thanks for strapping me in."
Lois premiered in Action Comics #1 with Superman in June 1938. Watch her shut down Clark Kent:
Visually, the character was based off of model Joanne Siegel. Joe Shuster hired her when they were working on their concept sketches and based Lois' hairstyle and facial features off of her. She wound up marrying Superman co-creator Jerry Siegel in 1948 and their daughter, Laura. In a Joanne Siegel's Los Angeles Times obituary, Laura said that her mom "not only posed for the character, but from the day he [Siegel] met her it was her personality that he infused into the character." Some of her tenacity is evident in the lengths she went to in order to ensure that her husband's name stayed on the Superman copyright. She died in 2011 at 93.
From her first appearance, Lois was a badass investigative reporter in a male-dominated workplace and she was not afraid to put herself in danger in order to get her story. She fearlessly competed again Clark Kent—they were journalistic rivals at the Daily Planet for a while. Even though she was Clark's love interest, in the early days, she didn't suffer from damsel-in-distress syndrome: Lois was really only ever "saved" when she intentionally put herself in danger in the course of an investigation.
In the 40s and 50s, or the Silver Age of Superman, her storylines changed and became more focused on Lois trying to marry Clark. By the 1960s-1970s, her entire character was essentially simplified to being just "Superman's girlfriend." To complicate this "Superman's girlfriend" character, Lana Lang was brought into the comics as an old flame of Clark's, creating a hot-selling "Clois" love triangle. This is how ridiculous things got: In one 1963 comic panel, Lois is depicted reading Superman's heart on a special "heart-meter" under the ruse of writing a story on how super-strong his heart is when she is actually trying to figure out on this "love detector" whether he loves her or Lana. Apparently, Lana was in on this plan, since she can be spotted peaking out from behind some curtains waiting to see if Superman loves her.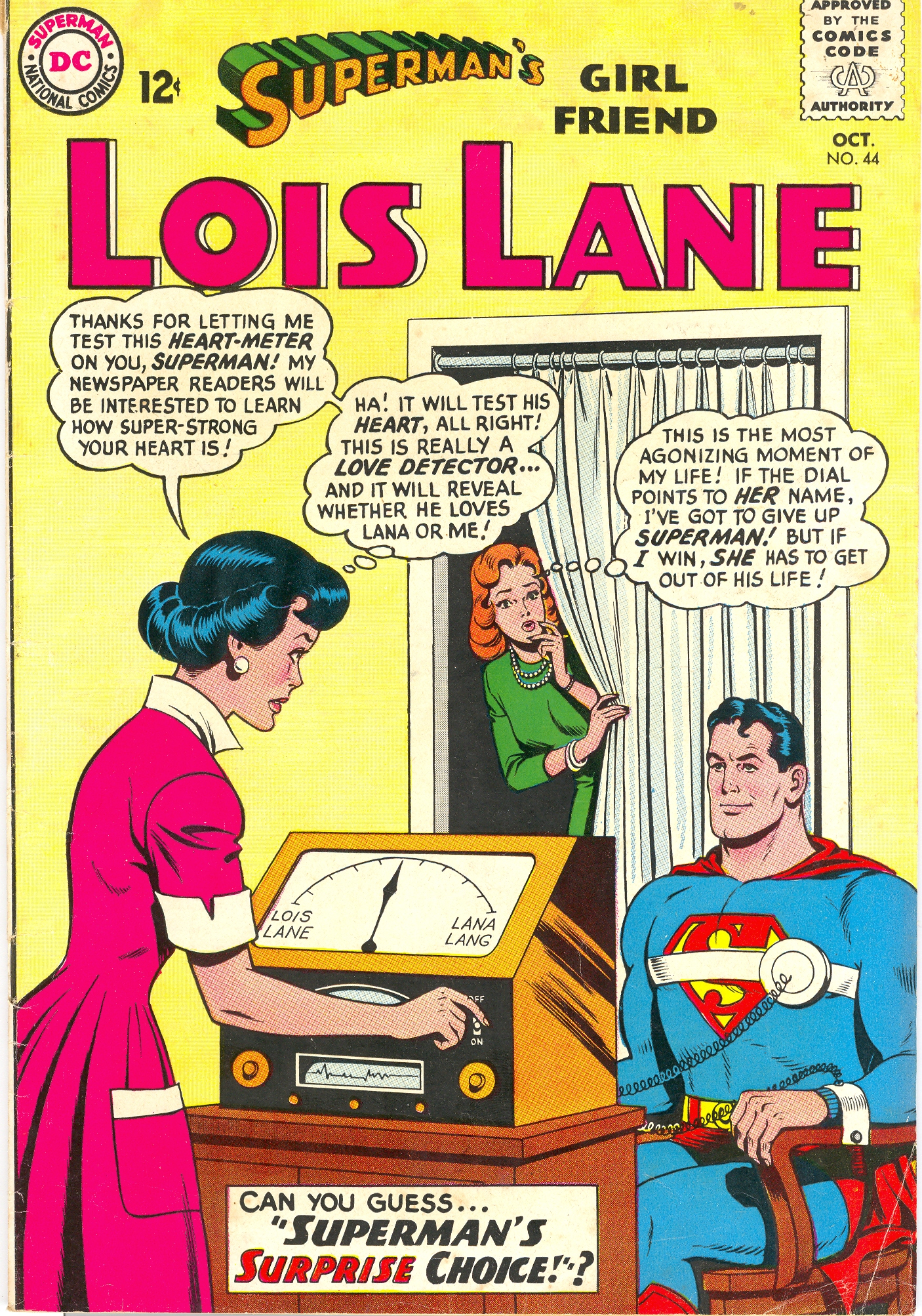 But then, the 1985 reboot changed a ton of stuff across DC Comics, the most important change being the shift from the DC multi-verse to the universe, meaning that worlds of all of the different DC Comics characters like Superman, Batman and Wonder Woman were combined.
In 1986, John Byrne's The Man of Steel series finally brought Lois back to her tough as nails origins: a reporter who would do anything to get her story.
In issue two of The Man of Steel, Lois is given the assignment from Perry White to interview Superman. After failing repeatedly to score an interview with Superman (fun fact: Lois actually coins the name Superman) Lois intentionally drives her car into the Metropolis harbor, knowing that Superman would come to rescue her and she would finally be able to get her story. Oddly enough, new reporter, Clark Kent, was somehow able to beat her to the punch and scooped the headline right under her.
Lois eventually started dating Clarke even though they were rivals. She dated Clark while still having sexual tension with Superman and she finally found out his secret when they got engaged in the December 1996 special "Superman: The Wedding Album."
These days, Lois is still married to her job and she is Superman's intellectual equal. These qualities set the standard for modern Lois.
In the new Zack Snyder Superman flick Man of Steel Amy Adams carries on the true Lois Lane tradition in a film that's far too flat and flashy. Adam's performance gives life to the movie and added some much needed humanity to Henry Cavill's performance. All of the "damsel in distress" situations that Lois gets stuck in don't come from dangerous reporting, but rather her desire to help Superman and mankind as much as possible. She's not just a spectator. In the film, Adams delivers a line that is the perfect tagline for the current Lois: "I get writer's block if I'm not wearing a flak jacket."
Required Reading: A history of Lois Lane's portrayal in movies, parts one and two. Plus, our hilarious illustrated review of Man of Steel.