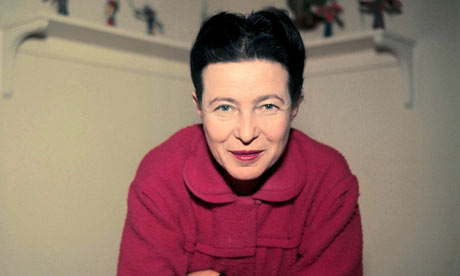 You probably know her as the French intellectual who penned the feminist tome The Second Sex. But did you know that in addition to writing this 800-page (in English translation—the French is shorter) classic of feminist theory, Beauvoir was also a journalist, essayist, novelist, playwright, memoirist, and travel writer? Recently, there has been a renaissance in Beauvoir studies dedicated to fully exploring her prolific body of work. A new English translation of The Second Sex appeared in 2009, partially funded by the French cultural ministry, in response to criticisms of the original translation that was done by a zoologist (Alas, it seems that the new translation by two English teachers/cookbook authors in France has its own problems).
In addition to the new translation of the feminist classical, an international team of scholars working with Beauvoir's adoptive daughter, Sylvie Le Bon-de Beauvoir, are releasing a seven-volume series of Beauvoir's philosophical, political, ethical, and personal writings, many of which have been unpublished or un-translated until now. All of this new interest in Beauvoir's intellectual legacy comes as a response to the long-time fascination with her public persona, which has too often been reduced down to her status as the lover of philosopher Jean-Paul Sartre and their controversial sex lives. Although she had a lifelong romantic and intellectual companionship with Sartre, she refused to marry him, choosing to live alone and taking both serious and casual male and female lovers over the course of her life.
Born in Paris on January 9th, 1908 to bourgeois French parents whose marriage had been arranged, Simone de Beauvoir quickly grew to be a precocious and willful child. Her mother, Françoise, censored her voracious reading habits, even learning Latin and English alongside Simone in order to oversee her strict Catholic moral education. Beauvoir soon rejected the restraints of her bourgeois Catholic upbringing, declaring herself an atheist at 14 and taking up smoking and drinking a few years later. (One of Beauvoir's biographers, Deirdre Bair, reports that they would each have a scotch—no water, no ice—before Bair would interview Beauvoir in her Paris apartment).
Excelling in school, Beauvoir eventually began study at the Sorbonne, where she passed exams in History of Philosophy, General Philosophy, Greek, Logic, Ethics, Sociology, and Psychology. She placed second in the aggregation exams in philosophy in 1929, coming in just behind Jean-Paul Sartre (who was taking the exam for the second time and who, unlike Beauvoir, had attended prestigious classes to prepare). Beauvoir, just 21 years old, became the youngest person to pass the aggregate in philosophy, meaning that she became the youngest philosophy teacher in France. It was also in 1929 that her best friend "ZaZa" tragically died. Beauvoir attributed the death to the pressure on ZaZa to capitulate to an arranged marriage, an event that would influence her perspective for years to come.
Beauvoir fell in with many of the leading Parisian intellectuals of the time and earned her nickname "Le Castor" (Beaver) for her reputation for always "fussing and working." WWII would drastically shape Beauvoir's life as the Nazi occupation of France and the Holocaust had a profound effect on her intellectual and political formation. Before the war, she had considered herself to be largely apolitical, concentrating on her teaching and her literary writing. Her first novel, She Came to Stay, was published in 1943. The war, however, opened her eyes to the ethical and political problems of violence and the oppression of others, and it was during the 1940s that she embarked on her "moral period" writings. She helped to found Les Temps Modernes, a leftist newspaper, wrote a series of articles on ethics, a novel (The Blood of Others), her only play (Who Shall Die?) and several longer essays on ethics, including The Second Sex. The book, released in 1949, was the culminating work from her "moral period" writings. The first volume of the book was a surprise bestseller and sold 22,000 copies in the first week. Along with the second volume, though, came severe (and often personally insulting) criticism of Beauvoir, including from the Vatican, the public, and from her male intellectual colleagues.
Happily for us, the often unfair criticism aimed at Beauvoir did not slow the tide of her writing, nor her political engagements. She wrote America Day by Day about her experiences lecturing in the U.S., which contains critiques of American race relations, imperialism, and the ideology of capitalism and western expansion. She published newspaper articles analyzing fascism and conservative thought, the unequal distribution of wealth and poor labor conditions, and the post-Holocaust role of the Israeli state. Her opposition to French colonialism inspired her 1960 public defense of the Algerian woman militant Djamila Boupacha, who had been brutally tortured by French soldiers. Her experience of growing older spurred her to write one of the first accounts of aging and ageism (The Coming of Age), which also inspired a documentary film on which Beauvoir collaborated.
It was also as she aged that she became fully committed to feminism as a collective political cause, one that she had helped to spark. In 1971, she wrote and signed, along with 342 other high-profile women, the Manifesto of the 343, which was dubbed "The manifesto of the 343 sluts/bitches (salopes)" by the press several days after its release. The manfiesto was a public admission of having had an abortion and a public demand for access to birth control and abortion in France at a time when abortion was illegal and could lead to imprisonment (the act remains relevant today, as Judith Thurman points out). Beauvoir continued her political and intellectual engagement until she died in 1986, leaving behind an enduring legacy of thought concerning the ideal of freedom and expansive notion of liberatory politics.
Previously: Margaret Tucker, Aborginal Activist and Writer