This week, we're putting together feminist gift guides to highlight the work of writers, artists, and groups we love. Today's list: gifts for plant eaters.
For many vegetarians and vegans, diet is important, but so are consumer choices and activism. Holidays for plant eaters are often full of exclusion: I've brought my own vegan meals to parties more than once to ensure I could enjoy a cruelty-free feast. It's challenge to shop for people who don't do eggs, dairy, honey, wool, silk, leather, or animal testing, and it's awkward to give someone a gift they can't ethically enjoy. Turn your head-scratching holiday shopping into a joy with these suggestions.
A GLOSSY LEGUME-INSPIRED MAGAZINE
For the the foodies, there's Chickpea, a glossy vegan quarterly magazine out of Rochester, New York. Each full-color issue is packed with mouth-watering photos and tempting seasonal recipes that feature the best of plant-based eating. The editors solicit content from around the globe. Recent issues have focused on gluten-free entertaining, delicious holiday cocktails, and menus for a picnic in the woods.
AN ESSENTIAL COOKBOOK

Isa Does It is the eighth cookbook from renowned chef Isa Chandra Moskowitz. It features straightforward, vegetable-based recipes for every night of the week with ingredients that are easy to find in grocery stores across the United States. No need to rely on Daiya and faux meat when you know how to make velvety cashew cream and homemade seitan sausages. Her sausage recipe will change your life.
A VEGAN PREGNANCY SURVIVAL GUIDE

For the vegan mommas and mommas-to-be, Sayward Rebhal's Vegan Pregnancy Survival Guide is a surefire resource for nutrition, postpartum care, and dealing with the skeptics. Her tips on pre-conception nutrition are helpful for those who are trying to expand their vegan families and for women looking to maintain healthy nutrient levels in their bodies.
A POWERFUL NEW FOOD AND FEMINISM ANTHOLOGY
Fans of Carol J. Adams's The Sexual Politics of Meat will enjoy Defiant Daughters, an anthology of powerful voices on the connection between institutionalized oppression of animal and sexist violence (I reviewed it for Bitch earlier this year!). The connections between rape and the exploitation of female, non-human animal bodies are stark in this thought-provoking collection.
THIS CUTE SHIRT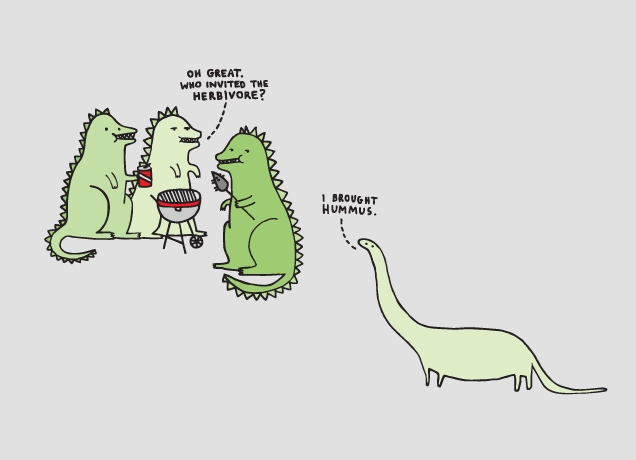 Who brings hummus to a barbecue? Herbivores, that's who. "Who Brought the Herbivore?" t-shirt is perfect for the lighthearted dinosaur-loving plant eater on your list. Scoot those brats over, it's time to grill some zucchini!
OR THIS CUTE SHIRT

The folks running the vegan grocery store Food Fight! in Portland aren't convinced that plant eaters are puny weaklings. And like many herbivores, they're tired of the meat-extolling rhetoric of paleo devotees. Need iron in your diet? Chow some brassicas and bust out your cast iron. Vegan artist Matt Gauck illustrated their Vegan/Paleo shirt to stomp on the notion that meat-eating prehistoric humans always have the upper hand. Throw in a copy of The No-Meat Athlete for the plant-based fitness fanatic.
SWEET, SOOTHING LIP BALM

Winter winds are punishing to lips, but it's hard to find lip balms that don't contain beeswax. Crazy Rumors does it right with more flavors than you can shake a stick at. Proceeds from their My Stache Balm support The Mercury Phoenix Trust, which works to combat the spread of HIV/AIDS through support of like-minded charities worldwide.
SOMETHING CALLED "LIP TAR" THAT IS ACTUALLY GREAT

OCC Lip Tar is a long-wearing lipstick that the high-femme divas on your list can rock all day color without fishy lips, unrealistic advertising, or animal testing. Finally, black lipstick that never comes off!
SEXY VEGAN CONDOMS

Sir Richard's latex condoms are produced without fillers or animal ingredients. Slip them onto your partner, a toy, or a sturdy veggie. As a bonus, for every condom you buy, the company donates one toward stopping global condom shortages. To lube it up, try water-based Good Clean Love, which is made in Eugene, Oregon without glycerine, parabens, or animal testing. Its light scent won't distract you, and their straightforward formula won't encourage the yeasty beasties, either. This lube is prime for vaginal sex, but thick enough for back-door loving, too.
DONATIONS TO GREAT ANIMAL-FRIENDLY CAUSES

Honor the good work of animal liberation by contributing to an animal-focused charity in your friend's name. Farm sanctuaries throughout the United States house animal liberated from factory farms and vivisection labs.
Other charities focus on companion animal welfare. The Teal Cat Project raises money to fund Trap-Neuter-Release programs to reduce feral cat populations. Donate that porcelain cat collection you inherited to a good cause: the Teal Cat Project paints tchotchkes an alluring shade of blue-green and sells them to raise money to spay and neuter cats. Texas Human Heroes, a pair of animal shelters near Austin, committed to a no-kill model six years ago. Since then, they've placed 10,000 animals into homes. Donations alone keep these live-saving centers running.
VegFam is a UK organization that funds projects worldwide to feed hungry people and people in crisis without relying on animal products. In 2012 they funded a project in Columbia to reduce poverty and create sustainable livelihoods for women through the construction of urban vegetable gardens. The women benefited by this project gain food security and the ability to move away from cash-crop economies.
Related Listening: "Subverting the Holidays" with two vegan Thanksgiving celebrations.
Read all of Bitch's feminist gift guides here.