Dear heartbroken people: I have some reading material for you. There are three great new graphic novels out this month that deal with break-ups, all of them digging into different moods and styles.
The first is Julie Delporte's haunting Everywhere Antennas. The book out on May 15 from Drawn & Quarterly is the fictional journal of a woman who is not just breaking off a relationship, but breaking off from everything as she retreats from modern society. The narrative, created from sparse entries and beautiful sketches drawn with colored pencil, follows the narrator as she deals with a mysterious depression and determines that she's allergic to all the electro-magnetic radiation of the city. It's an intriguing read that draws you along page-by-page, not building to any climax but just meandering in a dreamy way between locations and feelings. Read a preview here. Read a preview of Everywhere Antennas here.
Also from Drawn & Quarterly this month is Pascal Girard's Petty Theft, a book that manages to convey both the lightness and loneliness of a recent breakup. Protagonist Pascal has trouble sorting through the increasingly large and awkward pile of stuff from his relationship—a huge paper mache version of his ex's head (it was once a Halloween costume) dominates the corner of his room, amid boxes of books. The book has several realistic female characters who refuse to pamper Pascal as he longs for a little pity and who express skepticism of his various fantasies and plans. Drawn with simple, expressive linework, the story's trials and travails are full of humor, but the moments of Pascal alone in a room crowded with books and old possessions bring a sincere levity to the tale. Read a preview of Petty Theft here.
Finally, there's Corinne Mucha's book Get Over It, released on May 9 from publisher Secret Acres. I've always loved Corinne Mucha's work (full disclosure: we collaborated on a comic about 1940s marriage manuals a few years ago), which feels personal and sweet without being sappy or overly self-indulgent. Her comics often deal with intimate feelings, like the anxiety over "feeling fat" and the personality conflicts that emerged as she and her boyfriend spent a summer in Alaska, in ways that hit home. Her new book is no exception: Get Over It resonates with me as Mucha details the mundane routines that she uses to get through her lonely days and the guilt she feels over being gloomy. The book is the result of several years of work and reflection—Mucha started Get Over It back in 2010 but did the bulk of the penciling as an artist-in-residence at the Vermont Studio Center in 2013.
"I had a lot of reservations about putting this story into print, which is part of the reason that I waited so many years to finally draw it and show it to people," Mucha says, via email. "I think that we all have certain stories that we've repeated verbally over and over. For me, getting this particular narrative down on paper, and taking the time to edit and dissect all my feelings around it was a very freeing experience, much more than I expected."
Corinne Mucha gave Bitch permission to publish an exclusive excerpt of Get Over It. Check out nine pages of the story below.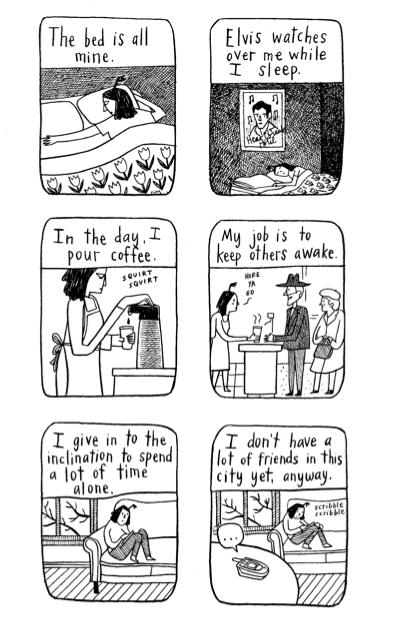 Related Listening: Break Me Off a Piece of that Break-Up Song.
Sarah Mirk is Bitch's online editor. She has piles of great comics to recommend.