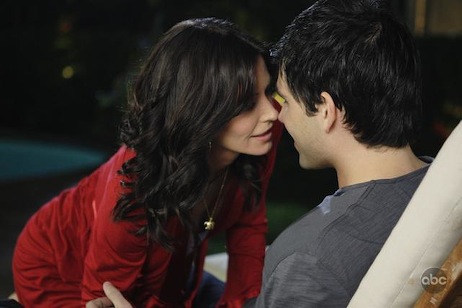 I have no aversion to the romantic comedy format. Show me a quirky heroine, a funny/cocky/cute love interest, a sassy best friend, etc. and I'll generally follow you anywhere. But, while ABC's Cougar Town has all of these things, I just wasn't interested. Why? Because the word "cougar" is in the title.
I've been trying to sit this whole "cougar" thing out since about 2006, but it just won't die. Why does this stupid word live on? The double-standard has been well noted: Men over 40 have been hooking up with younger women for ages, therefore it's sexist to have a derogatory term for women who do the same thing. Maybe the word has staying power precisely because it's been deemed derogatory. Now TV writers are deluding themselves that the word is both funny and controversial. (It's neither.)
I could only assume that a show called Cougar Town would be woefully, painfully, pathetically unfunny as well. But I'm happy to say it's not. Courtney Cox is still a great physical comedian, Christie Miller is more delightfully neurotic than ever, and I love Busy Phillips. I just love her. The three share a lot of fast-paced dialog that makes me laugh in spite of myself...and in spite of some pretty disturbing lines, like, "I used to be young and hot, now I'm just a big pile of old."
Yes, body insecurity absolutely dominates the conversation, and it's especially hard to swallow coming from the painstakingly preserved Courtney Cox (playing Jules), who is still hotter than most 22-year-olds (at least by conventional standards). If ABC wants to do this cougar thing, why not go with the uber-aggressive sex goddess in leopard print and stilettos who seduces young men for her own pleasure? That stereotype is a lot more fun than the wrinkle-obsessed basket case frantically clinging to her youth.
The most annoying thing about the title is that it doesn't even describe the show. Of the three female leads, Jules is the only single woman over 40, and she's pretty timid about dating due to her recent divorce. She's seeing a few younger guys, but her main love interest is a same-aged neighbor. Why isn't the show just called " Rom-Com Village" or "Finding Herself City"? The age difference between Jules and her younger partners is uneventful, and totally beside the point.
If you're looking for a guilty pleasure, Cougar Town might do it for you. (I, for one, am keeping my season pass.) Just be sure to have a paper and pen handy, because you might want to note your discontent once they start weighing themselves or whatever.