Today we're making history on the Bitch blog. The Douchebag Decree has been used to call out the likes of politicians, sports stars, pop stars, and internet trolls, but today we're getting real, and awarding the Douchebag Decree to an actual douche.
The folks at Summer's Eve have launched a massive new ad campaign called "Hail to the V." The concept is simple, many feminists are probably familiar with it–vaginas are pretty amazing and you should treat yours accordingly. Only problem is–well, there are about a million problems.
Wait, what? Oh…ewwwwwww.
First, the small stuff. This campaign uses a VAGINA! IN YOUR FACE! tactic that doesn't work when your wipes, gels, powders, and sprays are intended for vulvas. You can even play a fun game (all their graphics look like Valentine's Day greeting cards) that proves this, but alas, the concept seems lost on every other page.

Secondly, the whole "Take care of your vagina by putting our product on it" is something we've had to explain numerous times to folks who take issue with our use of "douchebag" as a pejorative. Namely, familiarity with and affection for your nether-regions (sorry, this campaign makes me loathe to use any word starting with "v") is great. Douching it? Not so much. Here's a run-down of all the chemicals in Summer's Eve products (h/t @fatemehf).
But most importantly, their campaign isn't just annoying (see: slideshow that starts with this slide and ends with this one; "Vaglossary" including terms ranging from bikini to crowning to…hermaphrodite? Really? ), it's racist and insulting. While Summer's Eve is including women of color in their campaigns, they tokenize them and made two weird commercials relying on stereotypes. Take the below commercial, where a black hand talks about her "wunder down under" and refers to "Lady Wowza."
Or the Latina hand (How do I know it's supposed to be Latina you may be asking? It starts off with "Ay yi yi!" and ends in a fast string of Spanish is why.)
Colorlines takes a closer look at the coded aspects of the ads–the "bizarre, imaginary patois" and sassy-black-woman-signifiers, that both the black and Latina hand use strange euphemisms instead of the word "vagina" (unlike the white hand). A representative from the Richards Group, the ad agency behind the commercials, recently told AdWeek, "We are surprised that some have found the online videos racially stereotypical. We never intended anything other than to make the videos relatable, and our in house multi-cultural experts confirmed the approach." Gotta wonder who their "multi-cultural experts" are.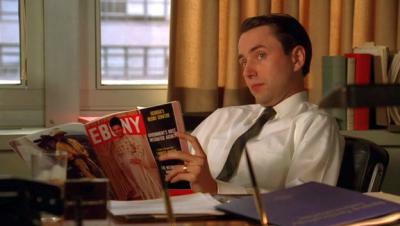 "What?"
Also, their "Hail to the V" commercial includes women of color, but the entire concept reduces women (like, you know Cleo-freaking-patra) to their vaginas. The whole co-opting of feminist "empowerment" language doesn't work because the campaign ignores that women (not just men) are into vaginas, that some women do not have vaginas (and that some men do), and the whole "Vaginas are the most powerful force in the UNIVERSE!!!!!" thing falls flat when you have even an inkling of how women's bodies have been–and continue to be–controlled and regulated, whether it's forced sterilization, rape as a military tactic, or limited access to abortion. Or, you know, by being unnecessarily flushed with toxic chemicals for no good reason.
"We can't wait to see how women respond to the new campaign, and where the dialogue goes from here," said Tina Johnson of the Richards Group. Well Tina, while you have sparked some colorful dialogue, I think it's safe to say that a lot of people think this campaign is about as un-fresh as you've had us believe our vulvas are. For a more empowering, douche-free, knows-the-word-"vagina"-is-incorrect lesson, I'll stick with the Midwest Teen Sex Show.
More info:
"Lady Wowza: 3 of the Worst Commercials in Advertising History" [Colorlines]
"Summer's Eve Talking-Vagina Ads Aren't Racist, Says Agency" [Ad Week]
"Summer's Eve: The Douche Company That Won't Say 'Douche' " [GOOD]
Previously: Ray Wieczorek and the New Hampshire Executive Council, Barbara MacEwen & the Haters of New York