Back in August, our web editor commented on the sexism of the "BIC for Her" feminine pen debacle. She opened her blog with the quip: "Thank God I'm typing this post on a laptop, because ladies like me need special, feminine pens to write longhand these days."
Yeah, about that. I've got some bad news.
The folks over at Fujitsu, the Japanese information and communication technology company, have decided that our current laptops just aren't feminine enough. The "Floral Kiss" laptop line (yes, it is actually called that) was apparently "born from the desire of Fujitsu's female employees to create a PC that women would find appealing." Phew, I can't tell you how many times I have dreaded the purchase of a new technological gadget because it is just too masculine for my pretty little lady hands to operate with ease and style.
"No sparkles!? No girl colors? No gold trim?! Hideous! Remove this man-device from my presence at once!"
The computers in the line are designed to be "feminine" in form, function, and content, because no aspect of computing should be subjected to the horror that is gender-neutrality. In addition to different color options, the power button has a "pearl-like accent," each key on the keyboard is encircled with an "exquisite gold ring," and a few important keys have been bejeweled with "diamond-cut stone." And, don't worry if you wear your nails in a style that frequently prevents you from accomplishing important daily tasks. These computers feature a "flip latch that can easily open the display—even by users with long fingernails." Where was this life-changing innovation when I was rockin' my Lee Press-On Nails in middle school, I ask you?
The computers also come with apps specifically for women built right in. The "scrapbook" app "automatically stores and organizes pictures and URLs of the items, retail stores, recipes, and other content that users come across when they are casually browsing the web." So, basically, it is like Pinterest, which we all already know is GIRLS ONLY. In addition, the "Diary" app downloads your photos, Facebook, and Twitter posts shared with your friends, because social media is just so darn user-unfriendly when the user happens to be a woman. Thankfully, that pressing woman problem has been solved. Oh, yeah, and there's a horoscope app (Full disclosure: I have three horoscope apps on my iPhone. I had to install them manually. How vulgar, how passé!)
Fujitsu has also paired up with jewelry brand Agete to create a custom purple and tan laptop with cursive font, an "antique-style pattern on the two palm-rest areas," and a special laptop case and matching accessory pouch. It even comes in packaging "unique to this product" to fulfill all of your womanly product dreams right down to the cardboard box.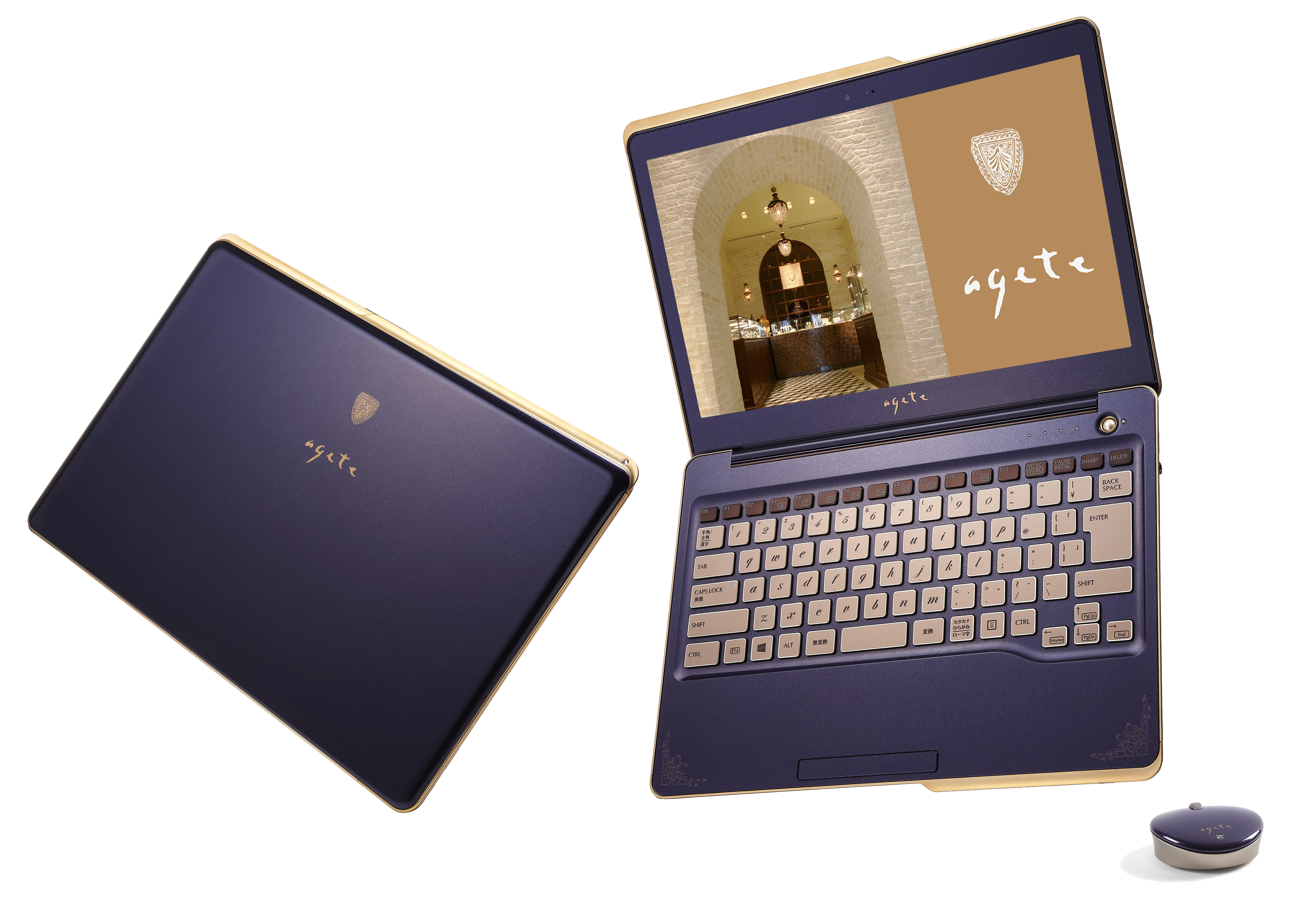 Ahhh, finally a computer I can actually use without being a shame to my gender!
There is no word yet from Fujitsu on how much these new fancy girl-computers will cost. If previous woman-specific products are any indication, it is probably going to cost you more money to get a laptop in "Elegant White," "Feminine pink," or "Luxury Brown" than in a "normal" (as in, not girly) color. (Does anyone else hear Nina Garcia's voice in their head asking, "But is it luxurious?" when you think about a computer in "Luxury Brown"?)
Price tag aside, the attempt to create products that women find appealing by making them in "our" colors (what if I told you I like orange and green…. would that shock you?), putting sparkles on them (I actually loathe diamonds, tyvm), and making them do girly things (like word processing and HTML? Amirite?) plays off some of the most sexist stereotypes about women, our interests, lives, and capabilities. Limiting us down to the most narrow of "niche" markets detracts from the fact that women probably really care most about what men care about in our technological products: that they work well (Jezebel.com's Jenna Sauers points out that the press release devotes just 19 words to the technical specifications of the laptops).
Let me break it down for the people at Fujitsu: Shallow marketing campaigns that treat women like hyperbolic-femininity- consuming cyborg-zombies are not only ineffective, they are insulting and harmful to women (and pretty much everyone else, too, btw). Women make up more than half the earth's population, so, it stands to reason that we like lots of different types of things. Except, maybe, these sexist computers, Fujitsu. We might not be so jazzed about those, after all.
Previously: Enough About Saving the Boobs. What About Saving Women's Lives?