Douchebag is too flippant a word to describe what happened in Sanford, Florida. George Zimmerman, a self-appointed neighbhood watch member with a history of racial profiling shot Trayvon Martin, an unarmed black 17-year-old. Zimmerman claims he acted in self-defense, but witnesses and 911 calls—and the fact that Martin was carrying a can of Arizona tea and bag of Skittles, Zimmerman was carrying a loaded 9mm—say otherwise. Martin is dead, Zimmerman is still free, and the Sanford Police Department is showing only a sliver of accountability today with the Chief of Police temporarily "stepping aside."
The Sanford Police Department, the precinct where Martin was killed, has grossly mishandled the case…and seems intractably committed to their version of the events. Only today, almost a month after the shooting, has Chief of Police Bill Lee "stepped aside" (what does that even mean?). And there's a strong doubt that any of this would have happened had the Internet and local organizing not swelled and called them out.
They delayed releasing the 911 calls, saying in a press release, "specific information is contained in those recordings which is vital to the integrity of the investigation. Should it be revealed, the information may compromise the integrity of the investigation prior to its completion." Of course, once the tapes were released (on Friday night, natch), they proved exactly that—this investigation was clearly compromised, but the department is to blame.
And it was ABC, not the police department, who spoke to Martin's girlfriend, who was on the phone with Martin when he was accosted by Zimmerman.
Most of all, the Sanford PD has been defending their inaction because of the "Stand Your Ground" law, which allows residents to use deadly force without backing down, and has made many shootings difficult to investigate since its passing. Zimmerman trailed Martin is his car and approached the 17-year-old—which is a stretch for self-defense in this case. And when gun-rights organizations and the very authors of the Stand Your Ground law are questioning the Sanford PD—that's saying something.
In addition to taking cover behind the "Stand Your Ground" law, the Sanford PD has shown a stunning lack of respect for Martin and his family from the beginning. Instead of calling around or checking Martin's cell phone, he was tagged a John Doe at the morgue, where the body waited for three days before his father was notified. They ran a drug and alcohol test on Martin's corpse, but didn't bother to do the same to Zimmerman. (Or even bring him in for questioning after shooting someone to death.)
If their (in)action doesn't condemn the Sanford police enough, Chief Bill Lee's Jr. statements show what kind of person he is. While Trayvon's family was grieving and the country was outraged over another senseless murder of a black youth, Lee made it about his department: "The hysteria, the media circus, it's just crazy. It's the craziest damn thing I've ever seen, and it's sad. It's sad for the city of Sanford, the police department, because I know in my heart we did a good job."
More unbelievable was when he suggested Trayvon Martin was at fault for his own murder: "We are taking a beating over this. This is all very unsettling. I'm sure if George Zimmerman had the opportunity to relive Sunday, Feb. 26, he'd probably do things differently. I'm sure Trayvon would, too."
Right… maybe Trayvon should have thought twice about being black in a state with loose gun laws? (It probably won't surprise you that this police department has a history of protecting its own when it comes to white men attacking black men).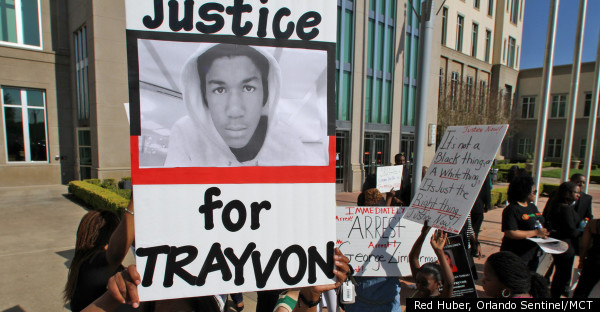 But the truth is that this is bigger than Sanford, Zimmerman, and even Martin. America has a long history of vigilantism against black and brown folk, from 19th century lynchings to the 2009 murder of 9-year-old Brisenia Flores. And it's not just self-appointed "freedom fighters" who do this, but law enforcement officers—the people we're asking to be accountable for Martin's murder (think Oscar Grant, Aiyana Stanley Jones). And stricter gun laws won't change the fact that our "justice" system only values the lives of black men when they're in prison. The odds have always been against black men like Trayvon, as they are against poor people, sex workers, people who are trans or gender non-conforming, immigrants, people who are all of the above, people who are assumed to be any of the above—and they will continue to be.
And at a certain point you have to wonder why we're even holding this police department accountable. As Low End Theory asks, "In appealing to the power of the police to arrest, and to the power of the courts to sentence Zimmerman, we also make heard a message that we might otherwise hesitate to send: namely, that we believe that these institutions—the police, the courts, the law—are institutions capable of delivering the justice we want…To what extent are we willing to appeal to a white supremacist police force as if it were capable of delivering justice for Trayvon?"
What can you do? Sign the Change.org petition, support your local demonstrations (and if you're white, don't make it about you, and don't co-opt the message). But even if Lee steps down, even if Zimmerman is arrested, we need to look beyond Sanford—at ourselves, our systems, and our assumptions—to make a sea change that matters.
Previously: Ernest Perce V, Slavery Billboard Defender, Liz "Women in the Military Should Expect to Get Raped" Trotta