Above: A still from Kibwe Tavares' beautifully shot short film Jonah.
Curious about emerging indie film directors but don't have a few thousand dollars lying around for plane tickets and festival passes to this year's Sundance Film Festival? Then mark your calendar, rearrange a decimal point on the admissions price, and wait for Sundance to come to you: Selected short films from last year's festival are screening across the country at independent theatres through January and February.
Last Tuesday night, I caught a screening in New York at the IFC Center. The polar vortex had made Manhattan feel like an arctic ghost town all week, but still the theatre was packed.
Why were people braving -8 degrees temperatures on a weeknight to see a collection of short films? Because shorts are where they'll discover their new favorite director.
The shorts programmers at Sundance are known for discovering and supporting early work of now mainstream mainstays like Wes Anderson, Spike Jonez, Jason Reitman, and David O. Russell. That rich history continues in recent festivals, and maybe soon with less of an emphasis on male directors thanks to new programs like the Women Filmmakers Initiative, which focuses on building a network of mentors and collaborators that can be instrumental in getting films made.
Until then, take comfort in the creativity and lyricism of these shorts. The Sundance terms this screening a "roller coaster ride", and rightly so. The 93-minute compilation has some ups and downs, but a few of the films and their directors make it worth the ride.
Here are five directors you may not have heard of yet who are, each in their own way, taking their shorts the distance: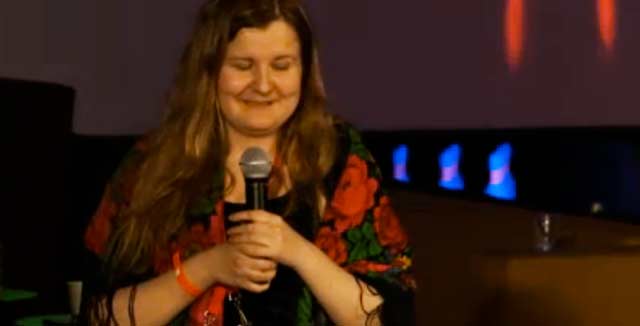 Finnish director Jenni Toivoniemi (above) took home the Jury Prize for International Fiction for her directorial debut The Date. The tagline of the film is intriguing: "A story about a date between three people. And two cats." Sundance called it a winner for "using the short form to maximum effect." The Date was among the few shorts screened in this tour that stood out to me as a self-contained world filled with fleshed out characters and narrative arc. Toivoniemi expressed dismay that the short film medium is oftentimes relegated to lesser-than status. "I find it sad they are often considered only as stepping stones or calling cards for features." Toivoniemi wrote in a recent email exchange. "I really love the short film as a form and quite often you see films that are made as marketing tools for features. There's no money in short films, but that also gives freedom in a way. I think there could be much wider audiences for the short films if we find new distribution models for them."
Thankfully, Toivoniemi must be finding those truly unique films, because she's definitely working and keeping busy new projects. Her first feature as a writer (co-written with Kirsikka Saari), Korso, is screening this spring in Finland. Her latest short Tigers, which she writes and directs, is in production now. Add to those accomplishments a few more features and shorts in development and you can't help but feel inspired yourself. Keep an eye on TuffiFilms, too, the production company cofounded by Toivoniemi and collaborators including Selma Vilhunen. They company earned their first Oscar nomination this year for Vilhunen's short Do I have to Take Care of Everything.
British architect and animator Kibwe Tavares (above) directs the longest short in the group with the effects heavy Jonah. A twenty-minute cautionary tale about two men who capture a mammoth fish on film and in turn alter the industry of their town. The scenes of commercialization and development create a lush and colorful landscape that quickly falls into decay. "In film what I'm trying to do is talk about those things that are close to me but in a much broader sense," Tavares notes, "in a way that isn't too heavy, that's accessible. I think there are lots of people doing good things in film but it's very niche, so people don't see it." With his slick animation and effects Tavares, a 2013 TED Fellow, is sure to get more work seen. His characters are likable and ambitious. Of the characters in Tavares short, Okayafrica's Derica Shields asks, "What happens when there's no infrastructure to support a person's dreams?"
Tavares must be wondering about the fate of his own craft's infrastructure, too. Instead of showing on the customary festival circuit, Tavares bypassed the limited means for distributing short films and released Jonah online. Watch the film below:
Julia Pott (above) is also at home on the Internet after reaching notoriety on YouTube for her short My First Crush. The British Brooklyn-based director of animated shorts including "Howard" and "Belly" may be a familiar name some, but The Event brings to light her darker side, taking a look at the end of the world through the eyes of a couple and as written by poet Tom Chivers.
This remarkable short marks a departure for Pott from purely animated fare, integrating live action, animation, and poetry to strong effect. Pottwrites of the discovery that took place in realizing the collaboration: "The poem was so strong on it's own I really had to push myself to bring something new to the table. When I started to push past that and team these familiar lines with unfamiliar scenarios I began to really understand my role, bringing a new significance to the writing rather than just animating what is already there." I think this gets at what is so special about The Event. Pott doesn't present characters acting out emotions or literal visual translations of the poetry, but instead offers four minutes of witness to scenes and dreams both colorful and tragic. It's moving, odd, and leaves me hoping to see more work from Pott soon.
In the meantime, you can watch The Event below.
Michelle Morgan is also forging new ground with her short K.I.T (a still from which is above). In the fifteen-minute short about a woman burdened by her "niceness" who feels compelled to "Keep In Touch," Morgan (who wrote, directed, and starred in the short) creates an unlikable but ultimately redeemable character. The building absurdity of internalized social expectations recalled an SNL skit, but a good one. The laughs lasted the whole fifteen minutes, and the characters could likely last for a many more episodes. If other shorts at this screening felt like trailers for features, K.I.T. seemed ripe for television. Morgan has a feature film in the works, however, one that she plans to direct. It will be interesting to see how her writing evolves with directing under her belt. She tells Creative Screenwriting magazine that "Directing definitely makes you look at how you're composing your scene, how you're making it as full of life and as interesting as you possibly can." If that's the goal, then Morgan is right on track. Her lively, funny, and on point characters are sure to be showing up on the big (and small) screen soon.
Damien Chazelle's Whiplash is a confusing film. The short was made, according to producer Jason Reitman "on a dare" as a "proof of concept" for potential feature film investors. The dare worked like a charm for Chazelle, who had seen the feature version of Whiplash rise to the top of The Blacklist but not reach production. Now Chazelle is at Sundance just one year after screening his award-winning short, this time with the feature version of the same title. To meet even generous extensions of festival deadlines, Chazelle had to shoot and edit the full-length feature in about nine weeks—roughly one-third the time needed to put together an average movie. It remains to be seen if the feature version of Whiplash accomplishes the same levels of anxiety and discomfort in audiences as the short did at the screening I attended. With scenes shot much like those in an action film, the audience tensed and cringed throughout. One or two people laughed nervously as fat and gay "jokes" spewed from the mouth of the merciless music teacher at the center of the story. Chazelle has said he wanted to portray a character that was simultaneously terrifying and funny, but in the short the character just came across as an abusive psychopath.
Jason Reitman has directed Juno, Young Adult, Up in the Air, and now Labor Day, films which all feature complex female leads. The question is: Why did Reitman, who has championed the work of writers like Diablo Cody, decide to produce Whiplash? After watching the short, I wondered if I had missed the point. Was there something more to it all, was the bro-humor some kind of Trojan Horse?
At this point it's too soon to say. The feature-length film screening at this year's festival could prove to be more critical of the abusive teacher's actions. But in watching the interview Damien gave at this year's pre-festival "Meet the Artist" chat he still referred to the music teacher character as being "both funny and terrifying." So maybe it is just problematic, missing-the-mark humor? The industry folks affiliated with the project are people known to back films with stereotype-busting strong female leads (like Jeanette Brill, for example, who co-produced The Hunger Games). I'll be interested to see what other viewers think of this film when it gets released—maybe its humor will hit the right satirical note for some.
Photo credits: Jenni Toivoniemi photo is from city.fi, Kibwe Traveres photo is via IMDB, Julia Pott photos is from her personal site, K.I.T. photo is from Kickstarter, and Damien Chazelle's headshot is via IMDB.