As a bit of a contrapositive to our weekly Adventures in Feministory, I have to include these 19th-century British political cartoons by John Leech that The Sexist linked to today.
Father of the family: Come dear, we so seldom go out together now - can't you take us all to the play tonight?
Mistress of the house and M.P.: How you talk, Charles! Don't you see that I am too busy. I have a committee tomorrow morning and I have my speech on the great crochet question to prepare for the evening.
You can view hundreds of Leech's cartoons at an online archive, but the ones listed under "feminism" are the most entertaining. With "The Ladies of the Creation," Leech depicts the dystopic future of upper-class white women gaining rights - like wearing pants! (What's next? Female police officers?!)
Leech's cartoons seem so antiquated that they're almost awesome. Take for instance the descriptor "Strong-minded lady," or the dialogue in the following panel for a female coach-driver: "You are a very saucy, impudent young woman!"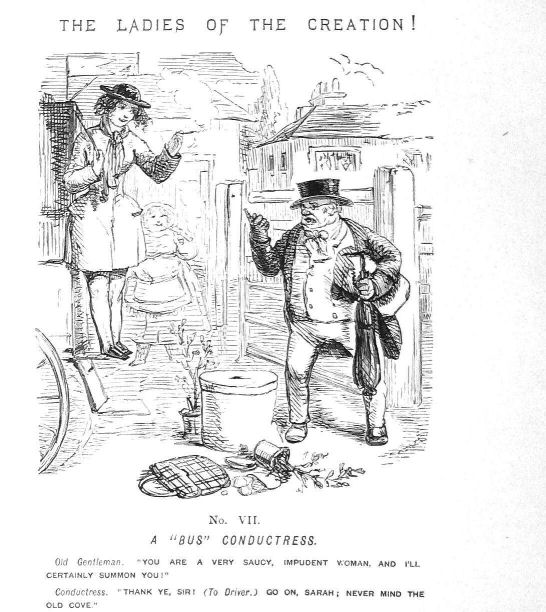 There's also plenty of cartoons of men taking care of children - total visual slapstick!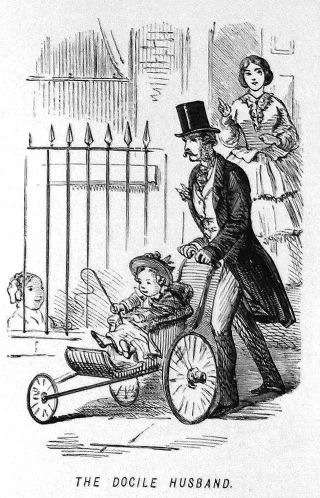 Leech's cartoons depict just a privileged sliver of the era's population, focusing on upper-class, white wife-husband relations and bloomer-sporting while slavery, indigenous displacement and colonization around the globe, unlivable urban environments, indentured servitude, and voting rights were also pretty major issues for women at the time. (You can browse "servants" and "social class," and while some of the olde-tyme humore is over my head, I'm pretty sure Leech is not expressing any progressive ideas.) And while it is fun to laugh now, let's not forget all the AskMen.com's out there still insisting that it's the natural order of things for men be the breadwinners and women go shopping.
Now how do I go about joining this awesome band....