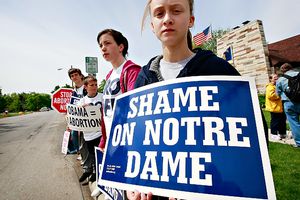 Word came yesterday: The University of Notre Dame has hired Brian Kelly away from the University of Cincinnati to be its new football coach. Kelly, a pro-choice Catholic with extraordinary coaching skill and success, takes the job just six months after the a strong segment of the Notre Dame community protested President Obama's commencement address at the premiere Catholic university, citing Obama's pro-choice beliefs as its point of discontent.
Let's be clear ... most people connected to Notre Dame realize that a person's beliefs about abortion rights have nothing to do with their suitability to take a coaching job. But as ESPN's Tim Keown describes, a vocal segment of the community has nonetheless lit up the online message board debating whether Kelly's pro-choice belietfs should remove him from consideration for the job. As Keown writes, before Kelly's hiring was a done deal:
... I know: Message boards are not exactly MIT graduate seminars, but it is being discussed. ...

The only question is: Does a football coach want to put himself through that? How many jobs outside the Vatican, the Supreme Court and Planned Parenthood could a person's views on abortion be a consideration?

And how they know Kelly is pro-choice is unclear. He isn't known to include pro-choice literature in the Bearcats' pregame notes, though he did once volunteer for Gary Hart.

Most news articles are quick to mention Kelly's bona fides as "an Irish-American Catholic," but that might not be enough. As a friend of mine -- Notre Dame grad, Irish-American Catholic himself -- says, "I couldn't care less whether he's Irish and Catholic. I like him as a coach."
Going in, Kelly should be aware of one fact: No matter how irrelevant the abortion issue might be, and even if it isn't brought up in any official capacity, you can be sure some group is going to show up and protest outside his door the day he moves into the office. And more than a few of them are bound to have the crazy eyes going.

Look, Notre Dame's decision-makers have every right to hire any coach they want, and they have every right to set the criteria as they see fit. They could bypass Kelly for his diet, for all I care. But as a Catholic, I find the intrusion of the doctrine-obsessed into everyone else's life a tiresome bore.

And if Notre Dame decides to go that route to appease the one-noters -- again, there's no indication it will -- it shouldn't stop with abortion. Why don't the Irish ask Kelly his stance on capital punishment? How does he feel about compassion for the poor and underserved in our country? What are his opinions on the clergy abuse scandal?

What charities does he support?
 Neal Hayes at the Chicago Sun-Times adds more detail (again, in an article published before the Kelly hiring was final):
When you talk about a football coach being pro-choice, it usually means he reserves the right to punt or go for it on fourth down. In Notre Dame's case, it takes on a different meaning ...

Where precisely (Brian) Kelly stands on what should be a private issue is uncertain, and frankly nobody's business, but if true it could be a deal-breaker for many on the Catholic university's campus. ...
A bit of context: Notre Dame has a golden football reputation, despite its decidedly mediocre record for the last twenty years so. Nontheless, it still ranks third in college football history (my alma mater, the University of Michigan is, ahem, number one) with 837 wins and won national championships under coaches such as Knute Rockne, Frank Leahy, Ara Parseghian and Lou Holtz. This year, Notre Dame finished with a 6-6 record.
Brian Kelly has built formidable teams at Central Michigan University, Grand Valley University, and the University of Cincinnati, which had an undefeated season this year is slated to play the University of Florida in the Sugar Bowl in a couple weeks
With the news of Kelly's hiring, most Notre Dame fans are busting with glee, while Notre Dame detractors (and they are numerous, passionate) are gnashing their teeth. As my friend and fellow Michigan Wolverines fan put it in an email, "He will be an excellent coach. Goddamn it. I want him for Michigan, not Notre "Fucking" Dame. ... Congratulations, Notre Dame. The blind squirrel has found its nut."
No matter your vantage, Notre Dame made the right choice for this job.
But, as Keown noted, the vocal minority has very different ideas about, well, "right choices." The comments I've seen as I've prowled the internets on Kelly coverage have revealed varying degress of sense:
Mitchell Holmes: Please, bring us a good coach who is a committed Catholic. One who the student athletes can look up to and learn from - help them to become better men. And, one who will not be blasting obscenities on the sideline...obvious to everyone watching.
Coach Rosie: I think the misunderstanding here is not his stance on abortion, but rather his supposed future political aspirations. The thought of a sometime-in-the-future former ND football coach running for office as a pro-abortion candidate is something the university has a right to be concerned about.
Bri:You football fans that don't have any connection to ND other swiliing down your beer whelie saying go Irish just don't get it. One of the vision stements about ND that Jenkins professes is Catholic values. As the highest paid employee and in the spot light pesron I would think that we as alum are entitled to someone that lives these values daily. ND is bigger than football.
Ohio Irish: The University threw out its core values when it let President Obama speak at the University.
DS: I was among the hundreds of ND students who staged a pro-life rally on campus during commencement (when President Obama was awarded the doctor of laws degree), and care as much about the Catholic identity of the university as anyone, but I don't see how this hiring decision compromises that identity more than hiring a pro-abortion janitor. Screening an administrator for Catholic orthodoxy makes sense at a Catholic school; screening a coach would border on discrimination. I haven't heard anything from my pro-life friends here to suggest that they are "in an uproar" or feel differently than I do. This is not the Obama-commencement scandal.
Peter Henderson: I disagree that Kelly's views should not be taken into account by Notre Dame when choosing a coach. Free speech gives Kelly the right to support Adolf Hitler, Karl Marx, the Ku Klux Klan, or Osama bin Laden. Would those views be considered irrelevant? It is the position of the Catholic Church and others that abortion is immoral. Would a convicted mugger or rapist be hired if he knew how to build a winning team? Not at ND - or nearly anywhere. And that's good. There;s too much hypocrisy on this issue. It's ok to screw people for a wisp of racism but not for supporting what many consider murderr.
irish fan: whats pro choice have to do with football
irish fan: So simple, so sensible.
About the Images:
First image: Anti-abortion protestors weren't happy about President Obama's appearance at Notre Dame; Scott Olson/Getty Images

Second image: Brian Kelly; ESPN