I had fully intended to take on the "everyone for themselves" quality of predicting election results, spending some time researching through the he said/he said (that's not a typo) of who will win the House and Senate when the smoke clears on November 3. And then German Chancellor Angela Merkel opened her mouth. What flew out was such a smelly stream of political diarrhea that I have to shift gears and write about elections, international context, and ugly racism.
On Saturday, Merkel remarked that "multiculturalism is dead." "This approach has failed, totally," she said, adding that immigrants should integrate and adopt Germany's culture and values.
"We feel tied to Christian values. Those who don't accept them don't have a place here."
Merkel continued as she addressed a meeting of younger members of her political party, saying that immigrants needed to learn German and to stop their traditional cultural practices like forced marriage.
This is rhetoric we've all heard before. Take note of this statement last June from Nikolas Sarkozy, President of France:

The burqa is not a religious sign, it is a sign of the subjugation,
of the submission of women. I want to say solemnly that it will not be
welcome on our territory.
In both of these positions, religious values are stretched out on a continuum from honorable to dangerous, signifiers of modern or barbaric culture, with no possibility for compromise. These are mutually exclusive. In Europe, the right-wing fears being taken over by Muslims. After all, of the 80 million citizens in Germany, roughly 2.5 million legal residents are from non-Christian majority countries, including 2 million from Turkey alone. With pressure on Germany from these immigrants, asylum seekers who came in the mid-to-late 20th century, and Germans who formerly lived in East Germany or the Soviet Union, it's not necessarily shocking that some xenopobia or anti-brown people racism could rise to the surface as an explanation for concern many Germans have regarding the stability of their economy and country.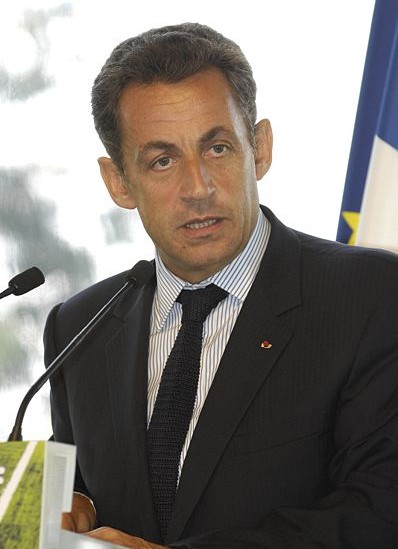 Five-year-old estimates of French demographics, meanwhile, estimate that 8 to 10 percent of the 65 million people in France are Muslim. This is in context with nearly a quarter of the population who identify as atheist or agnostic. So Sarkozy focuses less on the religious significance and more on the symbolism of cultural traditions like the burqa.
Whether we as feminists have concerns about women's freedom in the Middle East—which is an important discussion to have, of course—it is reductive and presumptive of the French President to declare, along with Parliament, that a country can simply rid an entire community of part of its value system.
Thinking back to the United States of America and these upcoming elections, two groups of brown people have been featured, again and again in our debates, in campaign ads, on news shows, and printed on the flyers that are mailed to our houses and that beseech us for attention:
• Brown people who share our Christian values but don't speak the language and who want to steal our jobs
• Brown people who have different religious values and are dangerous to themselves and us
I'll note that both Merkel and Sarkozy represent the more conservative side of European politics, as do the US candidates that I have featured earlier in the column who have pulled out the "scary immigrant" and "scary terrorist" messaging in this election cycle. No, we aren't the only country which pontificates about the human threats to our nation. But perhaps by looking at where else these doomsday scenarios are echoed, we can hear just how hollow they always sound.