June 28, 2010, is a Monday. It is also roughly a week after the summer solstice, so just as the days start getting shorter here in the northern hemisphere, the United States Senate will begin hearings to confirm Elena Kagan as the next Associate Justice of the Supreme Court. Sound the trumpets and flip the play button on a rousing Sousa march.
Wait a minute—it's probably not going to transpire that way.
I have a number of friends and loved ones who are addicted to The West Wing, the Aaron Sorkin-created NBC series that ran from 1999-2006, and honestly, 2006 seems like a lifetime ago in terms of watching this show. It didn't have long to get its message of brilliant governance and witty backroom banter out before we all suffered through the brutal reality of September 11, 2001. For me and many others, the narrative suddenly seemed out of touch, quaint almost, drowned out by chants of "USA, USA, USA!" Still, there was something lovely about escaping an hour at a time into a near-perfect political world. Strategy, for one, was always spot-on.
Take the fifth season episode, "The Supremes." A few episodes before, we see the Chief Justice, a heart-on-his-sleeve, old-style liberal, have what looks to be like a mini-stroke; guest star Matthew Perry checks on him in the hospital (which, incidentally, looks nothing like the George Washington University Hospital in DC) and is troubled to see that the judge is not doing well. A few episodes later, he has recovered, determined to stay in the job until hell, high water, or another medical catastrophe. 
The Chief Justice has just, it seems, outlived an Associate Justice, and in the machinations to find a replacement, our intrepid Chief of Staff Jr., Josh Lyman, brings in none other than Glenn Freaking Close, who is something of a carbon-copy liberal lion of the ailing Chief. Problem is, the just-deceased Associate Justice was not a liberal, so there likely won't be any support for her. Josh doesn't much care, as he just wants the GOP to get wind of her so that when they pull out their real nominee, a moderate, the right will be relieved. Because nobody will see through that plan—*cough cough* Harriet Miers *cough cough*.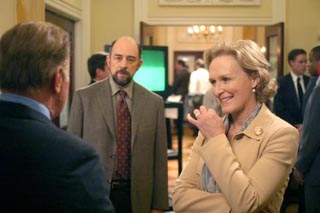 But the red herring candidate has so much political savvy and legal knowledge, Josh is a moth to a bonfire and can't resist her. Then she drops a bombshell: she's had an abortion. The senior White House staff want to run away from her. Good thing they're just dangling her around and not really interested in her. The President is horrified that anyone would be persecuted for doing something legal. Where has he been hiding, under a rock? Oh wait, he's been in the Oval Office. Same difference.
Josh and the Director of Communications, one very misanthropic Toby Ziegler, hatch a crazy-sounding plan: since they're worried the Chief Justice won't make it much longer, why not get her on the court by offering to put whatever neoconservative zealot on that the GOP wants? They just need the Justice to step down. Too bad having the White House ask him to do it is totally and utterly illegal. But they figure they can suggest it, all polite-like. He agrees, knowing this is his best chance to get out and keep the left wing intact.
Now the GOP has come up with a guy who apparently is the Ann Coulter of judgeships. So they spend a good 20 minutes of the episode acting like he has the cooties when really he's just got a terrible slicked-back hairdo. They see the repartee between the two candidates and know, just know, that this is going to work out. Because five minutes in a room with two law-minded people bantering is a great Litmus test of how they'll come up with perfect judgments on the court. But hey, it makes some kind of internal sense, I'm sure.
All goes as planned, if planned means getting through the press conference to announce this musical chairs strategy. President Bartlet asks Glenn Close to sign a copy of the Constitution as the Chief Justice. When she asks if that isn't premature, the President reassures her that she's a lock. I wonder if that's what Reagan said to Robert Bork. Cue the sweeping violins to signal the end of the episode. Oh, happy day.
There is a reason that fiction ends here and doesn't show us the nomination hearings for either of them. Because that part is messy, and full of individualized ulterior motives and Machiavellian tactics. "I'm worried my constituents think I'm soft on X topic. Let me ask the candidate about it here. Because two of my constituents will ever watch me asking this question." 
When President Obama nominated Sonia Sotomayor to the bench, the rhetoric was, in a word, weird. She was, depending on which talking head was making sounds come out of its mouth, the following:
A reliable liberal vote
From the far left
Too Catholic
Too centrist
Possibly not ready to be objective
Would not have been nominated if she weren't Hispanic
Will impose her personal beliefs on the bench
The right choice
It is possible that not all of these adjectives and attributions could be true of any one person. And her nomination process was considered relatively trouble-free.
Elena Kagan made the short list that Sotomayor topped, and now it's her turn to run through the process. Even as her nomination was announced, people began questioning her record, her lack of judicial record, since she's never been a judge, even whether she's racist. She may not have as smooth sailing as her immediate predecessor. Here is where things get interesting, rhetoric-wise, even if this is where NBC would fade to black.
Oh Capitol Hill people—we'll be watching.