Welcome back to Pop Pedestal, the blog series about pop culture personalities we admire. Today's tribute goes to Toph Bei Fong, earthbender extraordinaire from the Nickelodeon cartoon series Avatar: The Last Airbender.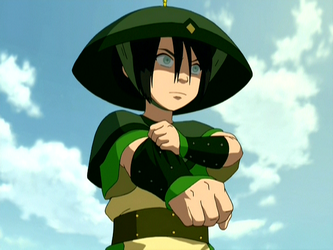 Pedestal Profile: Toph Beng Fei is the only daughter of the Ba Fong family, a noble family of Ba Sing Sei, the capital city of the Earth Kingdom. But unbeknownst to her overprotective parents, Toph moonlights as "The Blind Bandit"—a pint-sized professional fighter who takes on grown men ten times her size in a battle of earthbending. Although only 12 years old, her unmatchable earthbending skills make Toph an ideal candidate to teach Aang (the last airbender and heroic Avatar) the skills he needs to save the world from the Fire Nation overlord, and ends up running away to join Aang, Katara, and Sokka on their quest to defeat the Fire Lord.
Toph falls into the "blind seer" trope Anna details in her Trans Continental Disability Choir post, "A Wizard Did It!"—because she's blind, Toph's mastery at earthbending comes from her ability to "see" the earth and its vibrations through her feet. (This is not a new thing in martial arts pop culture.) Toph avoids the "super crip" trope, though: Her earthbending skills may be out of this world, but they're never portrayed as a way to "overcome" her disability (and Toph's vulnerability in water or air is always noted). And it's clear from the get-got that Toph's blindness isn't holding her back from anything—it's people who treat her patronizingly (like her parents) that limit her the most.
Admirable Qualities: She's got a cyncial sense of humor, and is one of the few characters on the show unafraid to give some tough love to Aang, nicknaming the guy who holds the fate of the world in his hands "Twinkletoes." She also dishes it to her friends, especially when they "forget" she's blind. In one scene, Sokka laments, "It's so dark down here…I can't see a thing!" after ending up completely underground. "Oh no!" says Toph in typical sarcastic fashion. "What a nightmare!":

But mostly I love Toph's unabashed confidence. Some may call it ego, but I love how self-assured Toph is with her unbeatable skills. I think it's often difficult for women to take ownership of their skills and talents—be it writing, athletics, facing Fire Nation overlords, whatever—and Toph's unapologetic pride in her abilities is inspiring. In Season Two, Toph finds herself alone in a particularly tight situation. To escape, she ends up inventing a game-changing bending technique, and with no one else around to hear, she announces, "Toph? You rule!" And although her pride occasionally keeps her at emotional bay, Toph's moments of reconcilation are some of the series' most touching.
Her influence: Like all great cartoon characters, Toph has inspired a gaggle of Tumblr sites, creative cosplay outfits, and all-around awesome creations (I like the Lego sculpture, personally). Click through each image for their source:
That's not all: While her character was cut from M. Night Shyamalan's film adaptation of The Last Airbender (maybe for the best, considering the film was critically panned for its racefail and general clumsiness alike), early peeks at the Avatar spinoff The Legend of Korra (omigodomigodomigodomigod) will apparently feature Toph's daughter as Chief of Police. Color me totally unsurprised Toph's daughter is large and in charge!
Think of her when: You're the best person for the job, but might have trouble owning up to how much you kick butt. Remember—you rule!
Previously: Patty Chase, Cleopatra Jones