These days, Kristin Wiig's practically the star of Saturday Night Live, Amy Poehler's departure is still bemoaned in every Weekend Update, and all the world's in love with Tina Fey. SNL seems to be getting a reputation as a wonderful vehicle for women in comedy. But, as you may have noticed, female cast members have historically had a lot harder time launching post-SNL careers than their male counterparts.
I could go over statistics about movie deals and the imbalanced releases of "Best of" compilations, but in the end it would come down to a comparison of individual cast members in terms of talent and success, and that's not what I want to focus on. (But Jimmy Fallon has a "Best of" compilation and not Tina Fey? REALLY?)
What I want to do is recall the work of stand-out comediennes and take a glance at what they're doing now. Were they just as talented as the men on the show, if not more so? In most cases, yes. Are they getting the recognition they deserve? Hardly ever.
The following ladies meet the following criteria:
1. Appeared on SNL in the last 20 years. (Sorry original "Not Ready for Prime Time Players" and the unfortunate women of the early 80s.)
2. Had more than one season as a featured player.
3. Left the show before this year.
4. Aren't Tina Fey (I mean, she's amazing but enough's been said, right?)
Let's begin:
THE FRESHMAKERS
After a catastrophic season (and half-decade if we're being honest) Lorne Michaels returned to SNL and replaced most of the cast. The new cast would build momentum eventually lead the show into its second golden age.
Nora Dunn 1985–1990
Memorable skits: The Sweeney Sisters, The Pat Stevens Show, and Ashley Ashley.
Known for: Boycotting a 1990 episode in which Andrew Dice Clay would be the host because she objected to his misogynistic humor. She did't return for the following season.
Now seen in: "Hey, it's that lady!" guest roles on TV, with film appearances here and there.
Jan Hooks 1986–1991
Memorable impressions: Kathy Lee Gifford, Tammy Faye Baker, and three first ladies (Betty Ford, Nancy Reagan, and Hillary Clinton). She had a knack for exposing the neurotic side of her straight-laced targets.
Known for: Having extreme stage fright and sticking with one of the most stressful live shows on television anyway.
Now seen in: Designing Women reruns.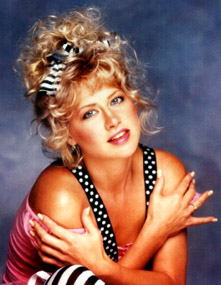 Victoria Jackson 1986–1991
Memorable roles: Dumb people, people with blonde hair, dumb people with blonde hair…you get the picture.
Known for: Reciting poetry while doing gymnastics; dating Weird Al Yankovich.
Now seen in: "Larry the Cable Guy's Star-Studded Christmas Extravaganza."
THE SECOND GOLDEN AGE
The early nineties saw an explosion in popularity for SNL that's usually attributed to its male comedians. In fact, there were only two featured female cast members for more than one season during this time.
Julia Sweeney 1990–1994
Memorable roles: Chelsea Clinton, Pat, and Whorenun of Sprockets.
Known for: Getting her geek on.
Now seen in: Autobiographical monologues at indie film festivals, the most recent being Letting Go of God.
Ellen Cleghorne 1991–1995
Memorable roles: Queen Shenequa. Beyond that, the show failed to put her to good use beyond playing black women of the day.
Known for: Having an eponymous and exclamatory sitcom on the WB called Cleghorne! for 12 episodes.
Now seen in: Bit parts like "Lady #1", and "Trustee." Sometimes she's not even credited!
THE "FEMALE POWER TRIO" (or "Three Popular Comediennes on Saturday Night Live at the Same Time, Gasp!)
These three made a splash in the late nineties (following another big purge of the cast) for all being women, all being funny, and all being on the show at the same time.
Molly Shannon 1995–2001
Memorable characters: Mary Katherine Gallagher, Sally O' Mally, and Helen Madden, Joyologist.
Known for: Physical comedy; being one of only 3 female cast members in SNL history to have her own "Best of" collection.
Now seen in: Quality films (for the most part) and NBC's big but unpopular sitcom Kath and Kim.
Note: This video contains ads.
Cheri Oteri 1995–2000
Memorable skits: The Spartan Cheerleaders, Mickey "The Dyke", Morning Latte
Known for: An ability to be simultaneously raunchy and adorable; having a "Best of"collection. (The third is "Best of" woman is Gilda Radner.)
Now seen in: Guest roles in B movies.
Ana Gasteyer 1996–2002
Memorable roles: Cinder Calhoun, Celine Dion, and Bobbie Mohan-Culp the high school music teacher.
Known for: Making music funny.
Now seen in: Stage productions of musicals in Chicago.
THE TASTEMAKERS
Once Tina Fey and Amy Poehler joined the show in 2000 and 2001 (respectively), female comediennes finally became less of a novelty and more of a staple. In fact, for the past 8 years the show has relied on lady talent for some of its biggest laughs.
Rachel Dratch 1999–2007
Memorable roles: Debbie Downer, Zazu McDonough, Harry Potter
Known for: Milking her looks for all they're worth.
Now seen in: Some pretty crappy fare as far as I can tell from IMDb. However, her work in Season 1 of 30 Rock is awesome enough to carry her over for at least another year.
Note: This video contains ads.
Maya Rudolph 1999–2007
Memorable impressions: Condoleeza Rice, Lucy Liu, Lorne Michaels
Known for: Her incredible range.
Now seen in: An untitled Sam Mendes project, according to IMDb. Is that really all?
Having been in love with SNL since age 10 I can say that I've followed most of these women's stints on the show pretty closely, rooting for them to get bigger, better parts and more airtime. You can imagine my tween, teen, and 20-something disappointment when SNL proved to center around the dudes over and over again. Now that things really do seem to be changing (thanks again, Tina Fey), I'll pin my unfulfilled hopes on a revival of SNL's ladies of yesteryear, and hope they'll be appreciated now, if not in their own time. I'll also keep my fingers crossed that someone like Kristin Wiig has the bright future she deserves, unlike so many women before her.
[Now published at www.loveinthelivingroom.com]