The Republican presidential candidates deservedly get a good amount of critical coverage due to the homophobic, racist, and misogynistic rhetoric that they seem to spout at every campaign stop. This election, though, is one of the first times in my memory that the candidates' classism and profound oblivion regarding their own privilege have really taken center stage. While I'm sure there will be more gaffes to come, I'm wrapping up this series this week, and I thought a roundup of the more classist political soundbites might be a good parting gift.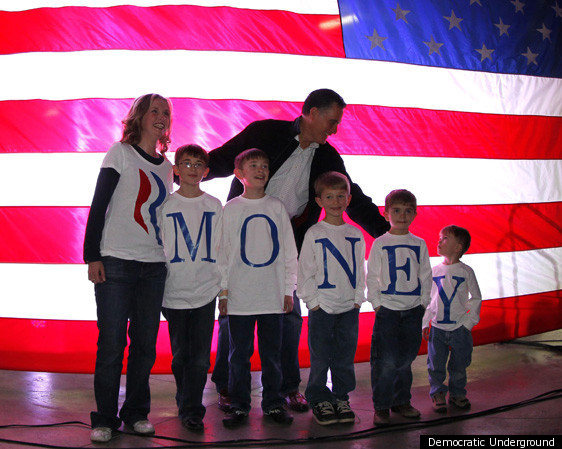 Mitt Romney
I thought I'd pretty much covered Romney's privilege and how it relates to his political standpoint—but then he goes and outdoes himself.
I'm in this race because I care about Americans. I'm not concerned about the very poor—we have a safety net there. If it needs repair, I'll fix it. I'm not concerned about the very rich—they're doing just fine. I'm concerned about the very heart of America, the 90-95 percent of Americans who right now are struggling.
So, are the very poor not Americans? Are they not part of the 90-95 percent of the country who "right now are struggling"? Or, they are Americans and they are struggling, but they're beneath Mitt Romney's care and notice? Mitt says he'll repair the safety net if it needs it, but he's not acknowledging that by the time Americans are using that safety net, the system has probably already failed them. He's not acknowledging the safety net already has holes in it large enough for entire families to fall through: when their unemployment insurance runs out and they haven't been able to find a job, when federal allocations to food benefits and school lunches are cut and American children are going hungry, when they can't access health insurance and face an emergency. And yet, Mitt took care of that last one in Massachusetts, which implies to me he has some concept of what low-income families actually need to get by. So why is he saying awful lines like this? It seems that classist flippancy has become part of what conservative voters want to hear in the primary, which might be more of a grim reality than the fact that there are candidates willing to supply it.
Newt Gingrich
In response to Mitt's quote above, Newt said, "The founding fathers meant the very poor… I am concerned about all Americans." But Newt has some very specific ideas about both why and how to help struggling families.
Really poor children in really poor neighborhoods have no habits of working and have nobody around them who works. So they literally have no habit of showing up on Monday. They have no habit of staying all day. They have no habit of 'I do this and you give me cash,' unless it's illegal.
Poor parents are lazy and display a poor work ethic—if they weren't lazy, they wouldn't be poor, obviously! Newt's solution is to eliminate the "very stupid" child labor laws, which were actively fought for by labor unions and American families who wanted to keep children out of unsafe working conditions. These laws were frequently paired with compulsory education, which required children to attend school—effectively helping ensure they has access to education. But that's silly, says Newt, because the children could just be working at the schools:
You have a very poor neighborhood. You have kids who are required under law to go to school. They have no money. They have no habit of work. What if you paid them part-time in the afternoon to sit at the clerical office and greet people when they came in? What if you paid them to work as the assistant librarian? And I'd pay them as early as is reasonable and practical.
Firstly, you don't pay people "as early as is reasonable and practical." You pay them when they begin working for you. Secondly, if our schools have extra money lying around, perhaps we could use it to better pay our teachers rather than violating child labor laws and paying young people to greet whoever walks through the door. And thirdly, poor children do have a "habit of work." They are more likely to help with caring for younger siblings and housework than their middle-class counterparts, mostly because their parents are likely to have longer and less flexible work hours, and are less likely to be able to afford outside childcare. And they attend school—that's their job. They need an education so that they can become informed, involved citizens who know better than to vote for Newt Gingrich.
Rick Santorum
As a native Pennsylvanian, I'd really hoped that I'd voted against Rick Santorum for the last time in 2006, when he lost by 18 points—the largest margin of defeat for an incumbent senator in nearly thirty years. While he's better known for homophobic remarks so offensive that this happens, Rick dishes out his fair share of classist remarks, too:
They're just pushing harder and harder to get more and more of you dependent upon them so they can get your vote. That's what the bottom line is. I don't want to make black people's lives better by giving them somebody else's money; I want to give them the opportunity to go out and earn the money.
Now, Rick says he didn't say "black people." He definitely did, but let's pretend for one second that he didn't, that this wasn't also an incredibly racist conflation of blackness and poverty, in addition to being classist. Let's suspend disbelief momentarily and consider his explanation that he said… "blah people." Referring to people who need public support—who avail themselves of that necessary safety net Mitt Romney is going to fix for us—as "blah people" is dismissive and uncaring at best. More broadly though, this framing of poor people becoming dependent on public benefits is damaging. The stigma around accepting and using benefits is high; and most families look forward to the day when they don't need to use them anymore. They're proud to be able to find a job and to begin to climb their way out of that safety net. Statements like this are a double-edged sword: they build the stigma around benefits making it harder for the people that need them, and the diminish the hard work of so many families to move off of them.
How then, do candidates get away with this? How do they get votes when they make it their business to dismiss, ignore, and ridicule such a significant proportion of the American population? It helps that 41% of American families making less than $20,000 per year (below the poverty level) think of themselves as middle class (although this number is from 2008, and things have likely changed since then). Many poor people don't think of themselves as poor, likely in part because of the dehumanizing way poor people are discussed in the media. So when candidates and policymakers are terribly classist, few identify as the group being ridiculed.
And, of course, there's the idea of the American Dream, that even if you're poor now, with hard work you can turn it around and be wealthy one day. To cite my favorite line from The West Wing, "That's the problem with the American dream. It makes everyone concerned for the day they're going to be rich." While few people identify as "poor" today, even fewer see themselves as being poor in the future. So, why not vote for a candidate that denigrates poor people? They're not talking about you now, and their negligent policies won't hurt you in the future. That's how candidates get away with saying such classist remarks and enacting such harmful policies—and they'll continue to get away with it until we, as voters, ensure they don't.
Previously: Mamas with Money and Parents in Poverty, The (Class) Difference Between "The Boy Who Lived" and "The Girl on Fire," Part Two