Watching Desperate Housewives and Melrose Place on a weekly basis gives me a unique treat: I get to see the moving yet kampy Marcia Cross play a homemaker and a psychopath, both with nuance and neurosis.
It's hard to say which character is more fascinating.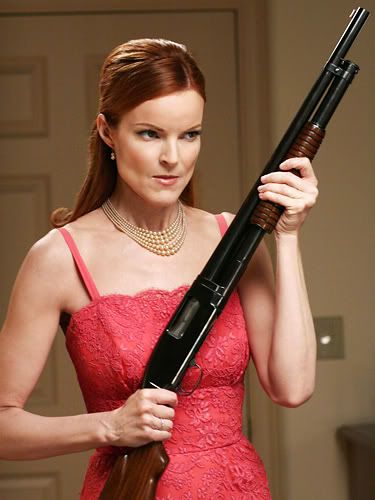 Bree Van de Camp of Desperate Housewives would appear more relatable at first, but her character's commitment to traditional feminity is so extreme that she becomes alien. In fact, Bree's not really for viewers (much less actual housewives) to relate to. Rather, she gives us a look into the neurosis of perfect housekeeping that actually makes me feel relieved to have dirty dishes in the sink.
The funny side of Bree comes out with her conservative politics. She's a staunch Republican, but struggles to show her gay son that she can be tolerant…even if it's by offering him strawberry daquiris. When she finds out her daughter is raising her grandson vegetarian, she slips him a few hot dogs on principle. She's pro-gun and pro-life. She even objects to oral sex on political grounds:
Note: There's Kyle MacLachlan in this clip!
Because of her traditionalism, Bree actually provides more opportunity for feminist subtext than any other Housewife. And despite the tongue-in-cheek writing, Cross brings more depth and sympathy to her character than most actresses on any show.
But then there's C-C-C-CRAZY Kimberly Shaw, whose every intense glare and passive-aggressive comment is a thrill to behold in reruns. She steals babies, she comatizes her husband, she does magic witch hands while having sex, and she plots against EVERYONE, often for no obvious reason….Quite simply, she's soap opera gold.
I think you can say a lot for Marcia Cross bringing subtle feminism to mainstream TV just by out-acting stereotypes, but I'm crushing on sheer entertainment value alone. It's just a pleasure to see a truly talented actress play such different roles over multiple seasons. If you've been avoiding Desperate Housewives or Melrose Place because you think you're too cool for them, I totally get it. But Marcia Cross alone makes them worth checking out. (Especially Melrose Place. It's pretty amazing.) Hm, she was also on a season of Knots Landing…am I too cool for that one? Probably not.