This post was co-authored with T.F. Charlton.
Using racial stereotypes for laughs in marketing is nothing new. Even these days, many people don't seem to notice the casual racism of some marketing campaigns—especially when their culture isn't the one being used as a punchline.
Case in point: Cibu International's line of hair products with names like "Miso Knotty Detangler" and "Geishalicious Shampoo." Many of Cibu's product names lump together food and martial arts references from different Asian cultures. But the worst are those that play on creepy, fetishizing stereotypes about Asian women, such as "Miso Knotty Detangler" and "Geishalicious Shampoo." In one image originally posted on Cibu's Facebook page, a naked Asian woman is pictured on her knees, hands behind her back, eyes downcast with the words "Seduced by Geishalicious" written underneath.
Concerned individuals made Cibu International and its owner Ratner Companies (which also owns Hair Cuttery, Bubbles, Salon Cielo, Salon Plaza, and Colorworks salons) the target of an online petition, demanding they change the name of the products. When people posted their complaints on the company's Facebook page, some fans of the products dismissed them, replying: "Can't anyone find anything better to do?" and "playing the race card as a knee-jerk reaction is dangerous and offensive." In another thread, a fan quipped: "Me love you long time!"
We were skeptical that Cibu would change its ways, but contacted the company last week to ask for an explanation of the clear racism in its marketing. To our surprise, Director of Public and Community Relations Diane Daly replied with a statement last Thursday: "We have decided to embark on a process of transitioning out of the current product names and reintroducing them with new names." Victory! As the company moves forward, we hope that the voices of Asian Americans are sought out and heard.
While Cibu's is just the most recent example of a hair-product peddler employing racist stereotypes in its marketing, Cibu's racism has plenty of company. Below are four other examples of problematic hair product marketing, from old campaigns to new ones.
1. Vintage ad: "Dr. Scott's Electric Hair Brush" (1899)
Buzzfeed compiled a list of alarmingly racist vintage ads; right in the mix is this example of late-nineteenth-century quackery. You have to wonder how many unfortunate people purchased this brush hoping it would cure their dandruff, baldness, headaches, and neuralgia, only to wind up with their same, sad head of hair. Clearly this was a product of a time when the medical marketplace was a tad less regulated and the line between beauty products and medical devices was grayer than it is today. It's easy to feel superior to the people who created or bought into this ad, but how many sports teams today insist on using similar derogatory images for their team mascots, refusing to alter them because of "tradition"? Do you know what else is a longstanding tradition? Racism.
2. Aussie Shampoo : "Killibinbin!" (2013)
Aussie transit ad photo via British blogger Laura Brown.

Numerous Aussie brand advertisements for the company's Shine Shampoo use the word "killibinbin," which they claim is "ancient Aussie" for "uber shiny." Problem: calling indigenous Australians "ancient Aussies" makes about as much sense as calling indigenous North Americans "ancient Americans." There are hundreds of Aboriginal groups with distinct languages still living in Australia, but Aussie never bothers to specify which of these languages "killibinbin" is borrowed from. Aussie also claims to make use of "ancient Aussie beauty secrets"—not so easily obtained in Cincinnati, where Procter & Gamble (who owns the Aussie brand) is based. Oh, well, anything to sound "exotic," right?
3. Nivea for Men's "Re-civilize Yourself" (2011) and 4. Cadiveu Professional, Brasil: "I Need Cadiveu" (2013)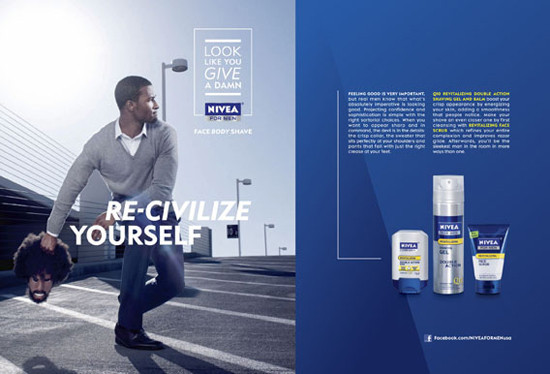 In 2011, Nivea for Men ran an ad depicting a black man with cropped hair preparing to toss an object that looked an awful lot like the dismembered head of a black man with a beard and Afro. (It was meant to be a mask. Ignorance plus bad design for the win!) Quick tip: America's gruesome history of lynchings means any ad that even appears to reference decapitating black people is not the best idea.
In January, Cadiveu Professional came under fire for a series of Facebook images that depicted white women wearing massive Afro wigs and holding signs that read "Eu preciso de Cadiveu" ["I need Cadiveu"]. Unsurprisingly, many Afro-Brazilian women were unhappy with this and launched a Facebook protest in response.
The implication of both these ad campaigns is that the hair texture of most black people is inherently unattractive, out of control, and must be fixed. But the ads are also tied to a stereotype of black people, especially black Africans and Africa itself, as wild and uncivilized. Both companies ended up walking back their campaigns and apologizing. To its credit, Nivea took the unusual step of clearly stating that the ad was "inappropriate and offensive." Cadiveu went the more typical route of apologizing "to anyone who was offended in some way."